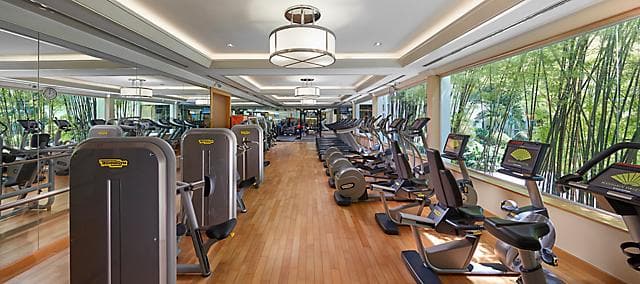 Bangkok
Fitness und Wellness
Fitness und Wellness
Bleiben Sie aktiv mit unseren Swimmingpools, den modernen Fitnessgeräten sowie diversen Kursen und Sporteinrichtungen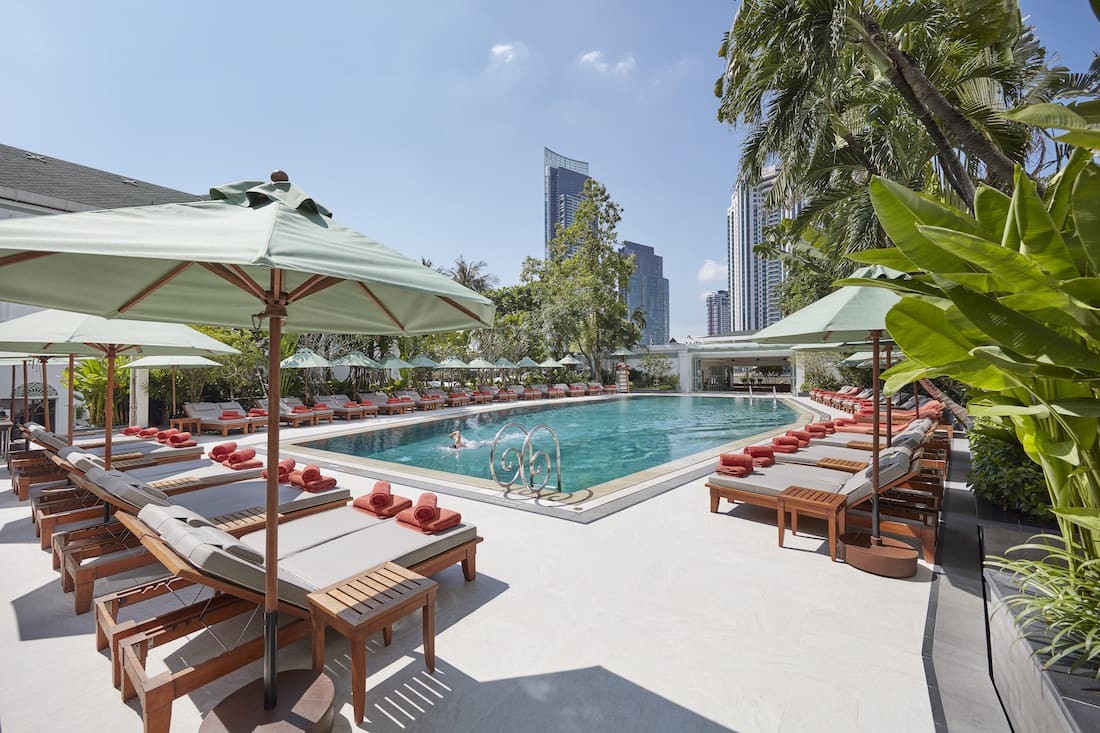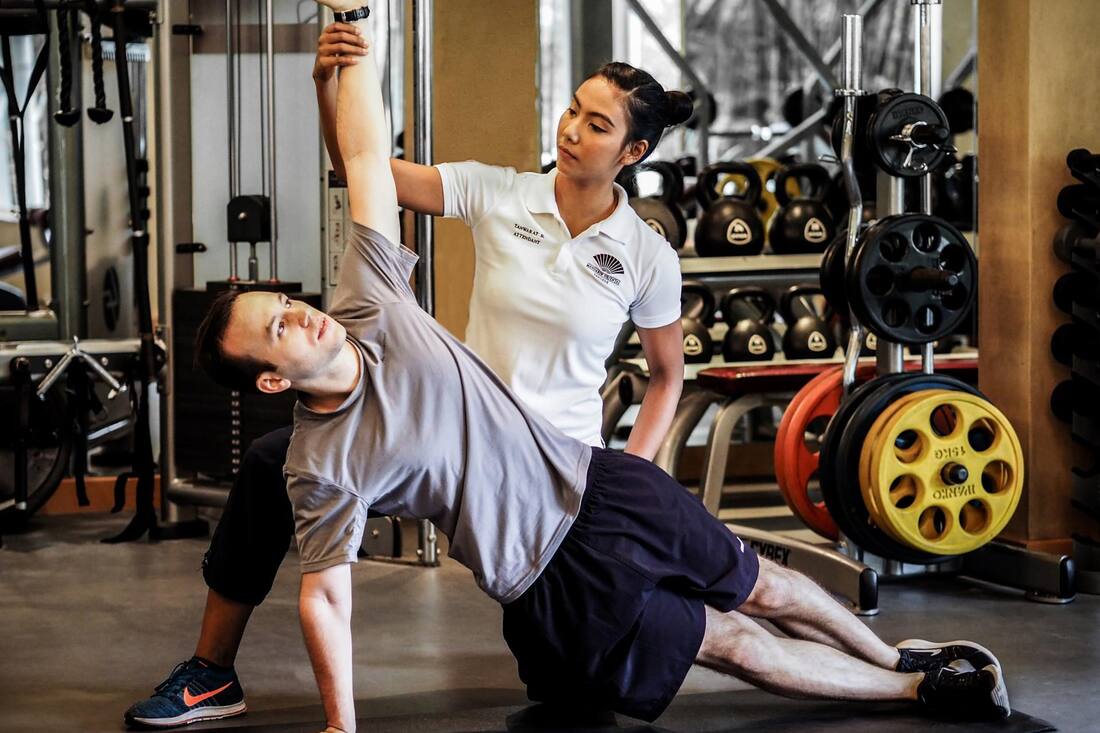 Das Fitness-Center ist der perfekte Ort für gesundheitsbewusste Menschen, die Wert auf professionellen Service und ein ganz individuell abgestimmtes Fitnessprogramm legen. Das Center befindet sich am gegenüberliegenden Flussufer hinter unserem Lotusteich.
Fitness-Center
Unser hochmodernes Fitness-Center ist mit Geräten für Aerobic und Krafttraining, einer Sauna, einem Dampfbad und einem Whirlpool ausgestattet und ermöglicht Ihnen ein komplettes Training. Darüber hinaus bieten wir persönliche Trainingsstunden.
Schwimmen
Sie haben die Wahl zwischen zwei Swimmingpools, die exklusiv zur Entspannung und Erholung für unsere Hotelgäste reserviert und von 06:00 Uhr bis 20:00 Uhr geöffnet sind. Ein Nichtschwimmerbecken, umgeben von Umkleidehäuschen, für entspannende Bäder und ein 25 m langer Pool, ideal um Bahnen zu schwimmen.
Kostenlose Kurse
Wir bieten unseren Gästen und Mitgliedern kostenlose Fitnesskurse an. Sie haben die Wahl zwischen Muay Thai (Thai-Boxen), meditativem Yoga, HIIT-Training, Fit-Ball-Workout und mehreren Fitness- und Wellness-Sessions. Darüber hinaus bieten wir eine Reihe von gesunden Aktivitäten exklusiv für Kinder im Alter von 8 bis 16 Jahren an, darunter Leibesübungen für Kinder, Yoga für Kinder und Thai-Boxen für Kinder.
Mitgliedschaften
Das Mandarin Oriental Bangkok bietet eine limitierte Anzahl exklusiver Mitgliedschaften.
Bleiben Sie aktiv mit
speziellen Kursen und Sporteinrichtungen
In Sanskrit yoga means "union", the coming together of the mind, body and breath through various techniques encompassing Asanas (posture) for the healthy body, Pranayama (breathing exercises), Dhyana (meditation) and Yoga Nidra (yogic relaxation) for the deepest rest eventually leading us into a blissful state of being.
At Mandarin Oriental, Bangkok we are delighted to offer an extensive range of Yoga programmes, from lively group sessions to one-on-one private classes, tailored to meet your specific needs. Our private Yoga sessions are designed and conducted by Yoga Lifestyle Trainer Neelam Khatri; Neelam has extensive experience of teaching yoga and conducting workshops, retreats and programmes for individuals, groups and children. She has been actively associated with many projects of The Art of Living Foundation, including teaching Yoga at other highly acclaimed locations.
A national sport to Thailand, Muay Thai boxing is a form of exercise that is popular amongst Thais, expats and visitors to Thailand. Mandarin Oriental, Bangkok offers guests staying within the hotel complimentary daily Fitness and Wellness classes, including a one-hour Muay Thai training session for up to four guests. These sessions are held by Khun Rose, a Muay Thai champion who holds a record of 46 fights with 38 wins, every Saturday at 5:30pm and beginners are welcome.
Guests who wish to book a private Muay Thai class can also do so as Mandarin Oriental, Bangkok partners with a leading Muay Thai training studio. Prices start from THB 2,600 per hour for one person or THB 4,700 for two guests. Guests can also book packages of 5 and 10 hours. Prices exclude 10% service charge and 7% government tax.
Our cardio and strength training classes offer an ideal way to get your heart pumping and increase muscle tone. In our specially designed training rooms, our qualified fitness experts will lead you through dynamic and high energy classes of 30, 45 or 60 minutes duration.
Complimentary classes for our hotel guests and Fitness & Wellness Centre members are held daily and include high-intensity workouts such as HIIT, Tabata Training and a fun-filled 60-minute Zumba dance class to burn calories and have fun at the same time. Specially designed group classes targeting key muscle areas include the 30-minute Core Burn, Glutes Workout and Fit Ball Workout. For a gentler cardio workout Cardio Light or Stretching classes are also available.
Guests can enjoy two floodlit tennis courts between 6am – 10pm daily.
Should guests wish to have a tennis partner, they can arrange through the Fitness & Wellness Centre. Tennis rackets and balls can also be provided.
Tennis Court Rental – THB 700 per hour
Tennis Partner – THB 800 per hour
Prices exclude 10% service charge and 7% government tax.